---
A
MAP
OF THE
MESKHIAN
SOVIET
REPUBLIC
*
---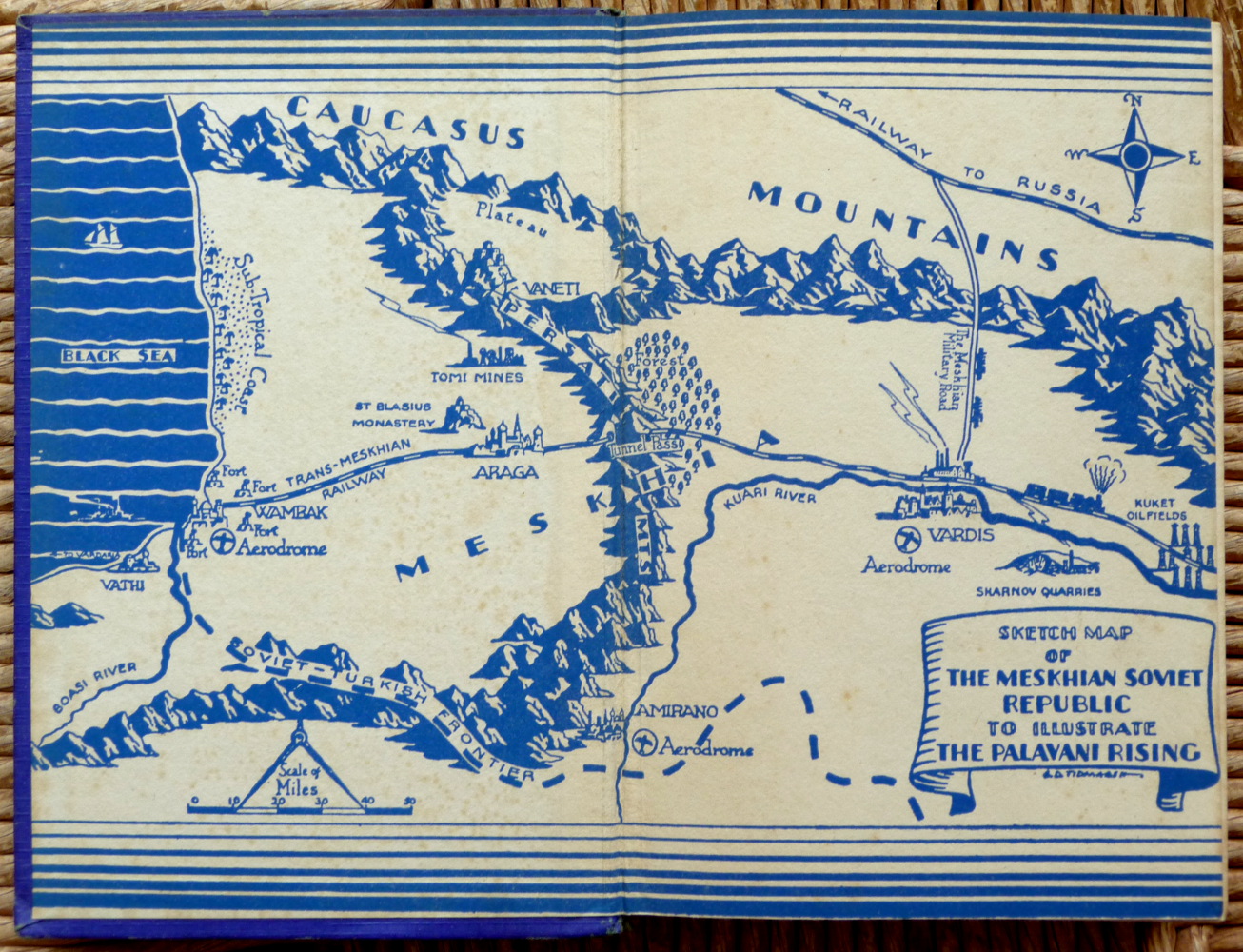 The beautiful map on the front endpaper of "Liam Pawle's" Strange Coast (London: Lovat Dickson Ltd, 1936)
---
From the Oxford Dictionary of National Biography:
In 1932 [W.E.D.] Allen had published his lively and respected History of the Georgian People and that July married Paula Alexandra Gellibrand (1893–1981), formerly wife of the marquès de Casa Maury. She was a society beauty, much photographed by Cecil Beaton, and may have been the model for the heroine of Enid Bagnold's Serena Blandish. They lived partly at Mullagh Cottage, near Killyleagh, co. Down, and jointly wrote Strange Coast (1936), a novel of romance and adventure set in a fictionalized Georgia of the 1920s, which appeared under the pseudonym Liam Pawle. The marriage was dissolved in 1939.
---
Easy, but fun nonetheless:
(From W to E): "Boasi River" = the Çoruh; "Vathi" = Hopa or Rize? or even Trabzon?; "Wambak" = Batumi; "Araga" = Kutaisi and "St Blasius Monastery" = Gelati; "Tomi Mines" = Chiatura or Sachkhere or even Tq'ibuli; "Vaneti" = Svaneti; "Amirano" (bottom centre) = Akhaltsikhe; "Kuari River" = the Mtkvari; "Vardis" = Tbilisi; "Sharnov Quarries" = Rustavi?; "Kuket Oilfields" most likely = a blend of Kakheti and Baku.
---
Unless stated otherwise or obviously not the case, all the text and images on this website are © A.J.T. Bainbridge 2006-2014
---
Do get in touch! Gmail: alexjtb