---
FROM
TRABZON TO TBILISI
560 km. via Batumi
---
In the days before cheap flights to Georgia (i.e. before Pegasus Airlines began flying between Istanbul's Sabiha Gökçen low-cost airport and Tbilisi), a cheap option for travelling from Europe was to fly to Trabzon on Turkey's Black Sea coast and to then make one's way to Tbilisi via Batumi. Even now, this is actually still a rather fun journey, and can take as little as a day and a night.
The stretch of Black Sea coastline between Trabzon and Batumi is stunningly beautiful. Trabzon and Batumi themselves are concrete monstrosities, as indeed is most of the Black Sea coast, regardless of nationality or of the type of cement used, but the spirit of a more authentic past still haunts some of their neighbourhoods—and, besides, the urban sprawl which blights this part of the Black Sea coast has barely scratched the glorious mountains behind.
It would be well beyond the scope of this page to try to include information on what to see on the way; there are plenty of guidebooks and online resources for this part of the world, so the main focus will be on the actual journey to Tbilisi.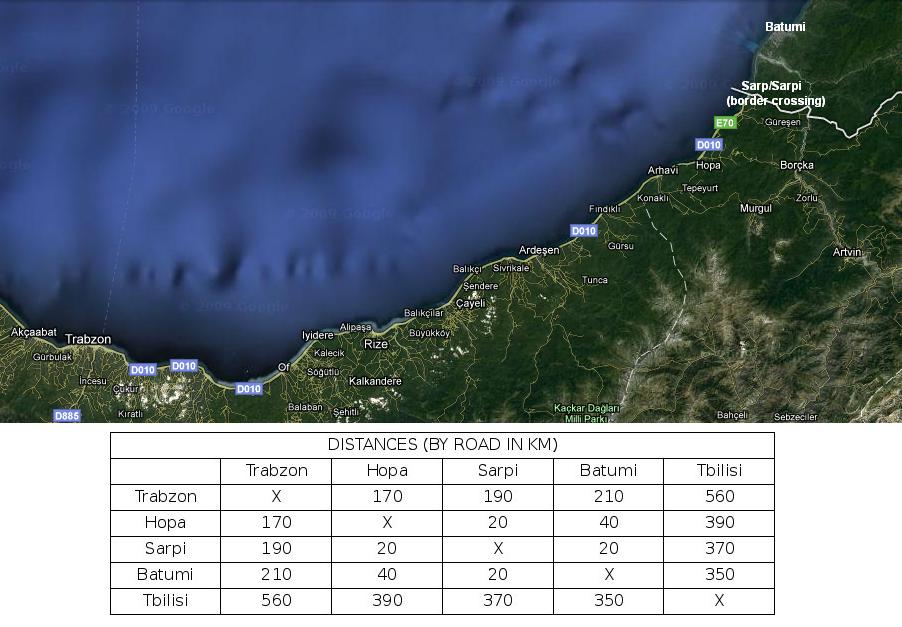 1. TRABZON—SARP/SARPI (border crossing with Georgia; 190 km.; minibus, bus, car)
Even if you arrive late in Trabzon, you can already start moving towards the border. Local minibuses link every town and village along the Turkish Black Sea coast, and some even stop by the airport late at night on their way east. A minibus ride to the town of Sürmene, for example, takes as little as half an hour, and Rize is only 75 km. east of Trabzon along the coast.
Every town has at least one or two cheap and perhaps-not-quite-so-cheerful hotels (Turkish: ucuz ama güzel otel var mı?—is there a nice but reasonably priced hotel around here?), which will certainly be much better value and much more adventurous than anything on Salıh Yazıcı Sokak in Trabzon. The Otel Kent in Sürmene, for example, stuck between the old coastal road and the new coastal motorway, was perfectly all right in its "bring your own loo-paper" kind of way.
During the day, large and medium-sized buses can take you further—even to the border if you're lucky—but your most likely destination will be the somewhat scruffy little town of Hopa. This town can feel like a small den of thieves, and the pressure will be on you to hire a taxi at vast expense; but don't if you don't want to: plenty of dolmuş ply the road, shuttling all the locals around between Hopa and the border, and it shouldn't take too long to spot one. (Hopa is also the town from which buses depart inland towards Artvin and Kars, &c.)
Once at the border crossing itself, smile, remain calm, and be patient—or, if you want to blend in with the locals or distance yourself from some embarrassing fellow ferengi, wear dark clothes, scowl, talk loudly, and generally try to look too rich to have to wait. Your turn will come, and it could be so much worse: spare a thought for foreigners who cross the border in their own vehicle.
(Turkish bureaucracy is a powerful force, and the Turkish authorities take procedure and paperwork very seriously indeed—just like their Ottoman forebears: in Turkish, and with complete disregard for his glorious military victories, the sultan Suleiman "the Magnificent" (ruled 1520-1566) is, after all, remembered as Kanunî Sultan Süleyman, "Suleiman the Law-maker", in recognition of his efforts to completely transform the Ottoman Empire's legislative and administrative system. He was born in Trabzon, by the way.)
2. SARP/SARPI—BATUMI/MAKHINDJAURI (30 km.; minibus, bus, car)
Getting from Sarpi to Batumi is very straightfoward. There are plenty of marshrutkas, as their numerous drivers will no doubt inform you as soon as you emerge, on foot and carrying a large bag, from the Georgian side of the border crossing. There is even a municipal bus service (possibly roomier than taking a marshrutka, but no doubt a bit slower), and even a bus line which goes all the way to Batumi's railway station in the village of Makhinjauri, about 5-10 km. north of Batumi itself (practical if you want to head for the next train, and have no time for Batumi). Given Georgia's general unpredictability, one should allow half an hour for the journey to Batumi, and another 15-20 minutes for the trip to the railway station in Makhindjauri (a surname which in Georgian means something like "from Ugly").
3. BATUMI/MAKHINDJAURI—TBILISI (350 km.; train, 'plane, bus, minibus...)
Currently (May 2014), there are two day-trains from Makhindjauri to Tbilisi, taking around 5½ hours to cover the 342 km. which separate them. The first leaves at 07:55 (pulling in to Tbilisi station at 13:22) and the second at 18:00 (23:40); the morning train makes more sense, perhaps.
The sleeper leaves at 22:10 (07:00 the next morning). Taking it is good fun if you equip yourself with a picnic, and best if you book both bunks in a first-class compartment, which would set you back GEL 80 (around EUR 30).
—When you reach the station itself in Makhindjauri, find the ticket counters and say gamardjoba, [Hello,] erti bileti tbilisamde, tu sheidzleba. [One ticket for Tbilisi, please.] ghamis matarebelze minda, dghes ghame. [I want to take the sleeper, today's sleeper.] And then perhaps mtliani es-ve minda, anu orive adgili [I want an entire first-class compartment, i.e. both bunks], or chveulebrivi bileti minda. [I would like a normal, i.e. standard-class, ticket.]
Batumi also has its own international airport, with regular flights to Tbilisi and Istanbul and indeed to more unlikely places such as Belarus, Iraq, Israel, Kazakhstan, Russia, the Ukraine and the United Arab Emirates. A flight to Tbilisi takes around half an hour, and a return costs around GEL 250 (EUR 100).
Dozens of buses and minibuses also ply the road to Tbilisi, and indeed fan out in every direction from Batumi's bus station. The "fast" option to Tbilisi involves a whole day of manic, pop-mp3-fuelled driving in an overcrowded minibus (almost certainly a Ford Transit), with lumbering Turkish lorries and insane locals in BMWs the least of your worries. Don't do it—unless you want to, of course.
A much more pleasant and exciting "marshrutka adventure" option would be to travel along the route Batumi—Khulo—Goderdzi Pass (2,025 m.)—Adigeni—Akhaltsikhe—Borjomi—Tbilisi (summer only). Or Batumi—Khulo—Goderdzi Pass (2,025 m.)—Adigeni—Zekari Pass (2,182 m.)—Baghdati—Zestaponi—Khashuri—Gori—Tbilisi (summer only). The possibilities are endless.
---
Unless stated otherwise or obviously not the case, all the text and images on this website are © A.J.T. Bainbridge 2006-2014
---
Do get in touch! Gmail: alexjtb