---
MOUNT USHBA
THE PROPERTY OF AN AUSTRIAN MOUNTAINEER?
---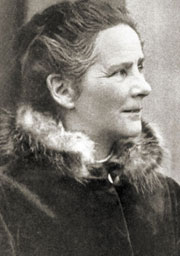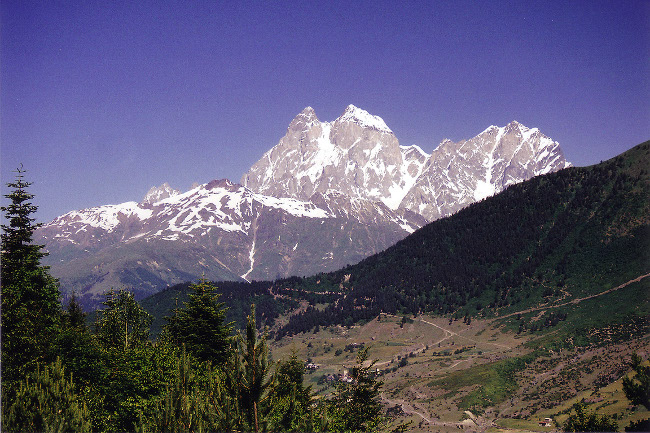 ---
In 1903, Prince Dadeshkeliani of Svaneti officially presented Cenzi von Ficker (1878-1956), a 25-year-old Austrian climber, with Mt Ushba. (The original copy of the document below is kept in the Alpine Museum in Munich.)
I, Prince Tatarkhan Dadeshkeliani, today present Ms Cenzi von Ficker of Innsbruck with the ownership of

Mount Ushba

to wit the astronomical point [co-ordinates] of the [? Mejevoi Map] (its highest point) along with all the areas to the North, West and South which in the Alpine-topographical sense of the word are held to belong to this individual mountain.

Etseri in Svaneti, 12/25 July 1903. [signature and seal]

The deed of gift overleaf, according to which Prince Tatarkhan Dadeshkeliani of Etseri transfers ownership of Mt Ushba to the young Tyrolean woman Cenzi von Ficker, was drafted, personally signed by Prince Tatarkhan Dadeshkeliani and affixed with his seal in the presence of the undersigned witnesses.

Etseri, 12/25 July 1903.

Willy Rickmer Rickmers
Hubert Wagner
John Harrison Wigner
Franz Scheck
[illegible] Gurchiani
Zurab Gurchiani
---
Willy Rickmer Rickmers, who had already made three unsuccessful attempts to reach the southern summit of Ushba (c. 4,700 m., graded French 'ED', extrêmement difficile, and notoriously one of the most difficult climbs in the entire Caucasus) in 1895, returned to Svaneti in 1903 with a team of 11 climbers—among whom were Adolf Schulze, Heinrich von Ficker and his sister Cenzi, all very experienced climbers.
Rickmers, the von Fickers and Adolf Schulze made a first attempt on the southern summit on the 20th of July. But as they approached the base of the summit Schulze suffered a bad fall, injuring his head quite severely; Heinrich, who had held on to the rope as Schulze fell, suffered deep cuts to his hands. Unable to continue, the team turned back, and despite a fast-approaching storm, Cenzi von Ficker and Rickmers, helped by a local, managed to bring the injured men back down to the base camp.
Prince Dadeshkeliani, a local potentate, was greatly impressed by Cenzi's courage and strength, and it was following this accident that he presented her with the gift of Mt Ushba.
---
(Just six days after his fall, and his head still bandaged, the clearly irrepressible Schulze set out again—this time with Oskar Schuster, Robert Helbling, Fritz Reichert and Albert Weber—and finally managed to climb past the crux just below the southern summit, becoming on the 26th of July 1903 the first man to reach the top of Ushba's southern peak.)
---
Unless stated otherwise or obviously not the case, all the text and images on this website are © A.J.T. Bainbridge 2006-2016
---
Do get in touch! Gmail: alexjtb