---
From London to Tbilisi by Train
VIA PARIS, MUNICH, BUDAPEST, BELGRADE, SOFIA, ISTANBUL, KARS & BATUMI
(for travellers and railway enthusiasts [masochists] only)
---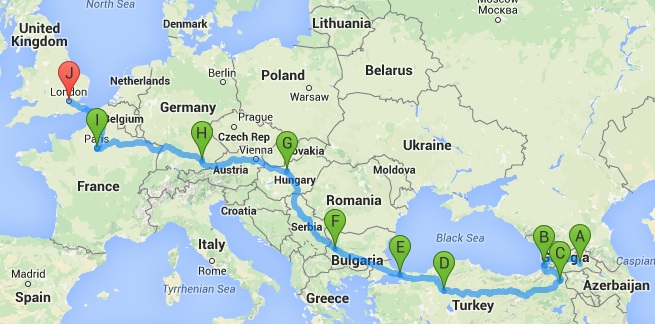 If you are fed up with flying and keen to trade your time and your money for real travel and adventure, this page aims to tell you how to get from London to Tbilisi without leaving the ground! All the information on this page should, however, be carefully checked en personne before making any plans (let alone booking anything).
N.B.: This page was last updated in June 2015.
---
STEP 1—From London to Istanbul (days ONE to FOUR)
Now that most Western European railway companies have criminally done away with their sleeper trains, bahn.de says that the quickest way of travelling from London St Pancras to Istanbul Sirkeci involves a 60-hour journey, 8 changes, 90 intermediary stops and a few hours' sleep on a bench in Strasbourg railway station.
(Note: There is also a 62 hour and 46 minute itinerary with only 6 changes, but that involves spending 8 hours from 9 o'clock in the evening to 5 o'clock in the morning in Frankfurt Airport's railway station: the station in Strasbourg must be a better place than that.)
The itinerary is:
1. Eurostar 9044 from London St Pancras (dep. 17:31—day ONE) to Paris Nord (arr. 20:53);
2. TGV 2471 from nearby Paris Gare de l'Est (dep. 21:55) to Strasbourg (arr. 00:14—day TWO);
3. After 6 hours and 8 wonderful minutes in Strasbourg station, Südwestdeutsche Express 86371 to Offenburg leaves at 06:22 and arrives half an hour later;
4. 39 minutes in Offenburg, then onto IC2265 to Munich, dep. 07:31 and arr. 11:11;
5. Railjet 65 leaves Munich Hbf at 11:34 and pulls into Budapest-Keleti station at 18:49;
6. At last, the first sleeper: Bulgarian Railways' Train No.481 leaves Budapest at 19:10 and arrives at Sofia on day THREE at 17:00;
7. Leaving Sofia shortly afterwards, at 18:30, Train No.493 travels to Dimitrovgrad (arr. 22:27);
8. Train No.491 then crosses the border with Turkey and arrives in Kapikule (dep. 23:19, arr. 01:50—day FOUR);
9. Turkish Railways' Express No.81031 then whisks travellers from Kapikule (dep. 02:55) to Istanbul Sirkeci (arr. 07:50—day FOUR).
STEP 2—From Istanbul to Ankara (day FOUR)
2.1—In order to board Turkish Railways' new high-speed train (yüksek hızlı tren) to Ankara, one must first get to the high-speed train station at Pendik on the Asian side of the Bosphorus, near Sabiha Gökçen Airport. To do so, head from Sirkeci railway station to the pier (iskele) at Eminönü and take the ferry across to Kadıköy, whence the E-9 bus heads to the Ido Yalova Deniz bus station. A 10-minute walk up Gazipaşa Caddesi brings one to the railway station at Pendik. (For a more detailed explanation, see this page on the excellent Turkey Travel Planner website.)
2.2—In order to avoid having to spend the night in Ankara, it is imperative that one catches the 12:50 high-speed train from Istanbul Pendik to Ankara (arr. 16:47), as the next one (dep. 14:20) arrives a quarter of an hour after the sleeper to Kars has left.
STEP 3—From Ankara to Kars (days FOUR to FIVE)

According to the Turkish Railways website, the amazing Doğu Ekspresi ("Eastern Express") sleeper leaves Ankara daily at 18:00 (day FOUR), pulling into Kars station the next day (FIVE) at 18:29. This being too late to continue to Batumi, a night must be spent in a hotel somewhere in Kars, preferably close to the minibus station.
STEP 4—From Kars to Batumi (day SIX)
Until the Kars-Akhalkalaki-Tbilisi-Baku railway line is finally built (don't hold your breath: the Swiss passenger trains Azerbaijani Railways have ordered aren't due to be delivered until 'between mid-2016 and mid-2017'), the journey from Kars to Tbilisi must be done by a combination of bus and rail via the nearest railway station viz. Batumi. There is a bus from Kars to Akhaltsikhe, of course—at 4-5 hours long a somewhat shorter journey than Kars-Batumi—but the Akhaltsikhe-Tbilisi train service seems to have been cancelled indefinitely.
Kars to Batumi is a bit of an adventure, but Turkey is criss-crossed by regular bus and minibus services, and it shouldn't be too difficult to leave early on day SIX and find one's way via e.g. Ardahan and Artvin to the small town of Hopa on the Black Sea coast, itself just a short hop from the Georgian border at Sarp/Sarpi. Crossing the border on foot never takes too long, and from the Georgian side there are regular buses to Batumi and even all the way to the town's railway station at Makhinjauri, c. 10 kilometres north of Batumi.
STEP 5—From Batumi to Tbilisi (day SEVEN) (or EIGHT)
From Batumi's railway station at Makhinjauri, trains for Tbilisi depart daily at 08:05 (arr. 13:20), 18:20 (arr. 23:35) and 01:45 (arr. 07:00). It should be possible to travel from Kars to Hopa by bus, cross the Georgian border and reach the railway station in a day i.e. in time to catch the 18:20 train to Tbilisi (arr. 23:35 on day SEVEN) or, in the worst case, have a late dinner in Batumi and catch the train which leaves at 01:45 in the morning and pulls into Tbilisi railway station at 07:00 on day EIGHT.
---
Unless stated otherwise or obviously not the case, all the text and images on this website are © A.J.T. Bainbridge 2006-2015
---
Do get in touch! Gmail: alexjtb