---
PHOTOGRAPHS
OF
DAILY LIFE IN KHEVSURETI
IN THE EARLY XXth CENTURY
COPIED
FROM THE COLLECTIONS OF THE
Peter the Great Museum
of Anthropology and Ethnography
OF THE
RUSSIAN ACADEMY OF SCIENCES
---
The following photographs of daily life in Khevsureti in the early twentieth century were copied from the "Ethnicity/peopels [sic.] of Caucasus/Georgians/Khevsurs" section of the photographic collections of the website of "Kunstkamera"—better known as the Peter the Great Museum of Anthropology and Ethnography of the Russian Academy of Sciences. (All images are © the Museum.)
The photographic collections of Peter the Great's Kunstkammer include some quite exceptional images of the peoples of the Caucasus, and there are 110 of Khevsureti alone.
Image ref.: 2064-46/3692705
Title: Group of men and women
Dating: early 1930s
Author: Sobol F ya
Image ref.: 2064-11/3692621
Title: 120-year old woman
Dating: late 19th - early 20th c.
Image ref.: 3625-29/3612152
Title: Group of men and woman in traditional costumes
Dating: the first quarter of the 20th century
Location: Georgia, Dushetsky, Shatil
Collector: Panek Lidia Borisovna, ethnographer, Caucasus studies
Image ref.: 3625-28/3612150
Title: Kobulo village: beer brewing
Dating: the first quarter of the 20th century
Collector: Panek Lidia Borisovna, ethnographer, Caucasus studies
Image ref.: 3625-23/3612142
Title: Woman with weaving tool
Dating: the first quarter of the 20th century
Collector: Panek Lidia Borisovna, ethnographer, Caucasus studies
Image ref.: 3625-26/3612146
Title: A boy transporting firewood
Dating: the first quarter of the 20th century
Collector: Panek Lidia Borisovna, ethnographer, Caucasus studies
Image ref.: 3625-12/1-2/3612078
Title: View of traditional dwelling
Dating: the first quarter of the 20th century
Collector: Panek Lidia Borisovna, ethnographer, Caucasus studies
Image ref.: 3625-14/3612124
Title: A connection between two houses
Dating: the first quarter of the 20th century
Location: Georgia, Dushetsky, Shatil
Collector: Panek Lidia Borisovna, ethnographer, Caucasus studies
Image ref.: 3625-30/3612094
Title: Group of man and women in traditional costumes
Dating: the first quarter of the 20th century
Collector: Panek Lidia Borisovna, ethnographer, Caucasus studies
Image ref.: 3625-25/3612144
Title: Woman with child
Dating: the first quarter of the 20th century
Collector: Panek Lidia Borisovna, ethnographer, Caucasus studies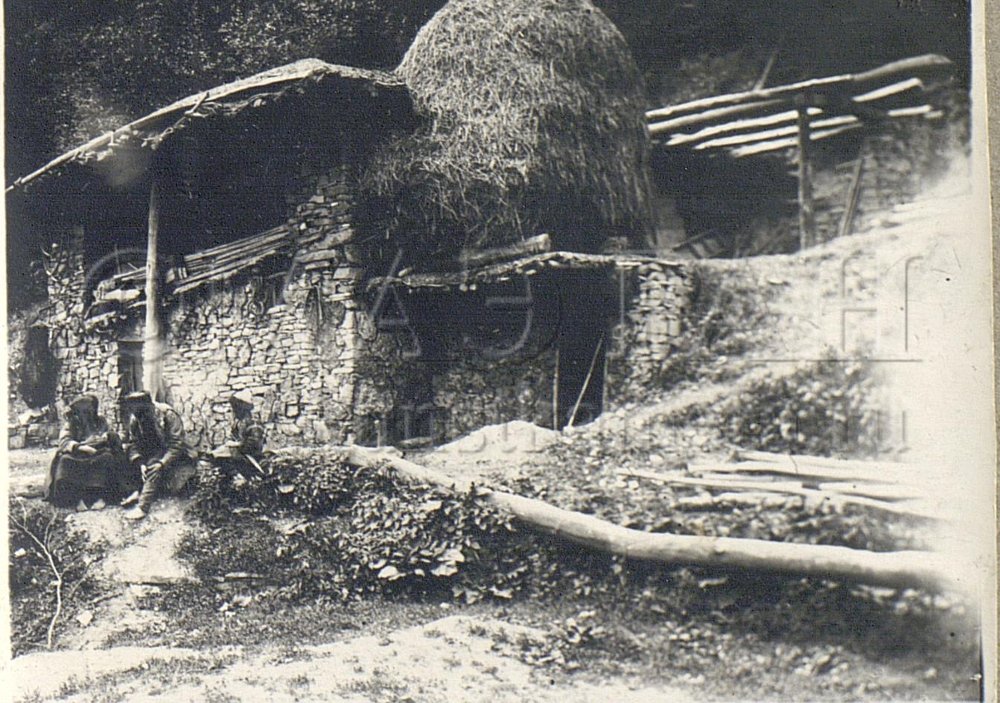 Image ref.: 3625-19/3612134
Title: Kobulo village: summer house
Dating: the first quarter of the 20th century
Collector: Panek Lidia Borisovna, ethnographer, Caucasus studies
Image ref.: 3625-32/3612156
Title: Kobulo village: [archery]
Dating: the first quarter of the 20th century
Collector: Panek Lidia Borisovna, ethnographer, Caucasus studies
Image ref.: 3625-22/3612086
Title: Woman at weaver's loom
Dating: the first quarter of the 20th century
Collector: Panek Lidia Borisovna, ethnographer, Caucasus studies
Image ref.: 3625-27/3612148
Title: Kobulo village: a man [holding a spear]
Dating: the first quarter of the 20th century
Collector: Panek Lidia Borisovna, ethnographer, Caucasus studies
Image ref.: 3625-11/3612120
Title: A three-storey building
Dating: the first quarter of the 20th century
Location: Georgia, Dushetsky, Shatil
Collector: Panek Lidia Borisovna, ethnographer, Caucasus studies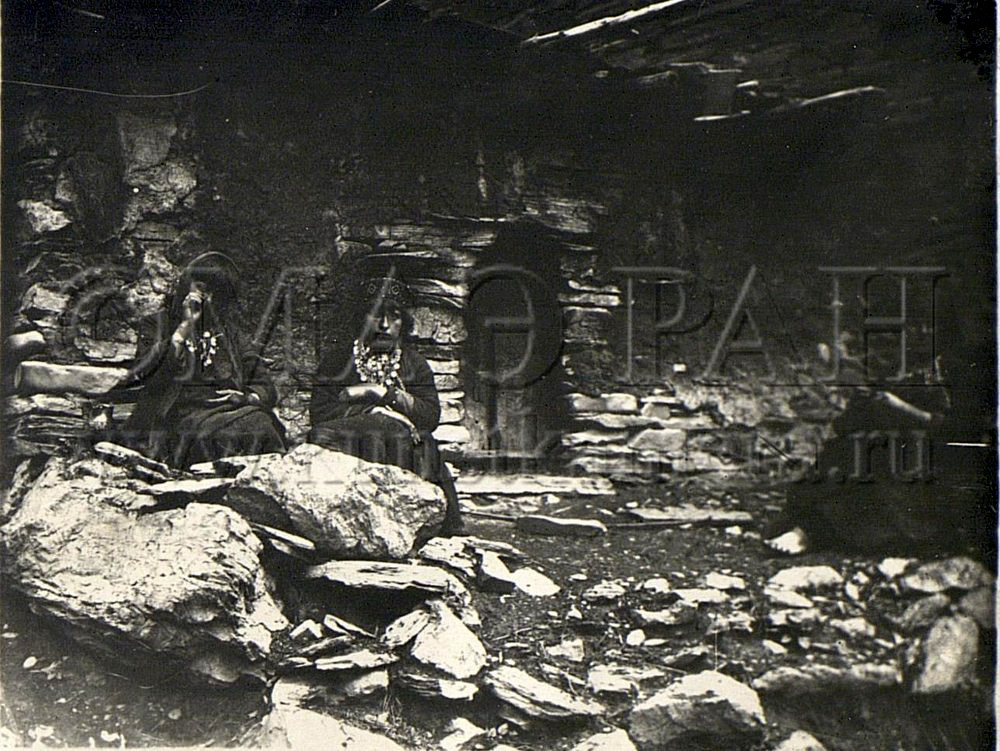 Image ref.: 3625-17/3612130
Title: "Samrewlo" women's house
Dating: the first quarter of the 20th century
Location: Georgia, Dushetsky, Shatil
Collector: Panek Lidia Borisovna, ethnographer, Caucasus studies
Image ref.: 3625-13/3612122
Title: "Khati" - sacred place
Dating: the first quarter of the 20th century
Location: Georgia, Dushetsky, Shatil
Collector: Panek Lidia Borisovna, ethnographer, Caucasus studies
Image ref.: 3625-21/3612140
Title: Kobulo village: woman at spinning
Dating: the first quarter of the 20th century
Collector: Panek Lidia Borisovna, ethnographer, Caucasus studies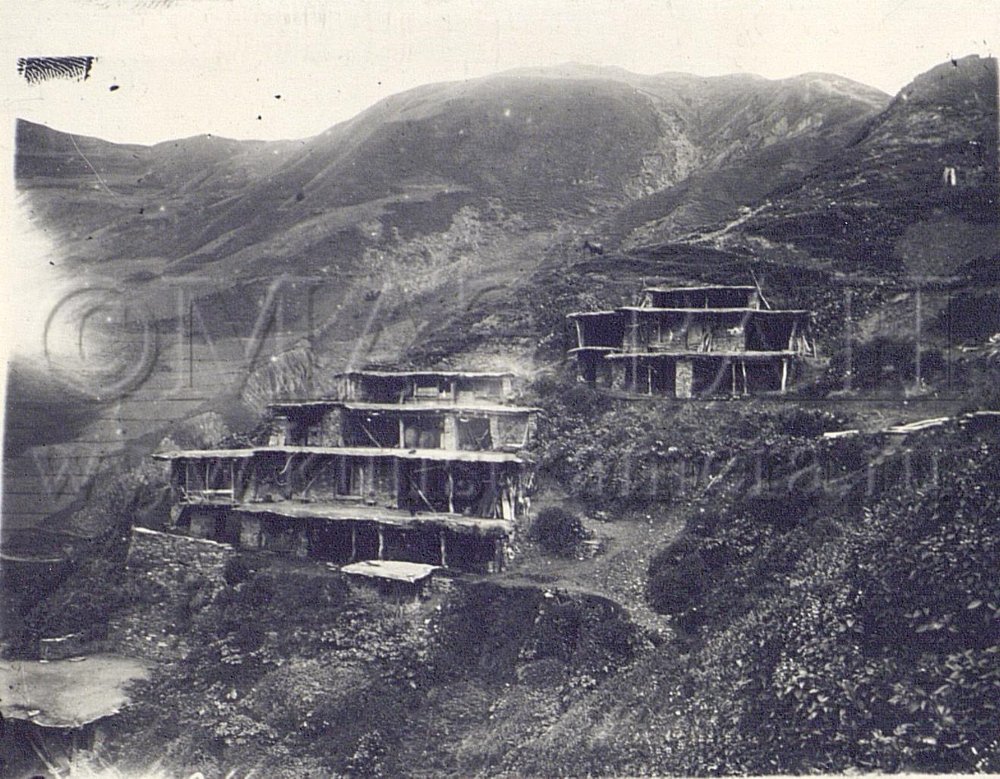 Image ref.: 3625-20/3612138
Title: Kobulo village: traditional dwellings
Dating: the first quarter of the 20th century
Collector: Panek Lidia Borisovna, ethnographer, Caucasus studies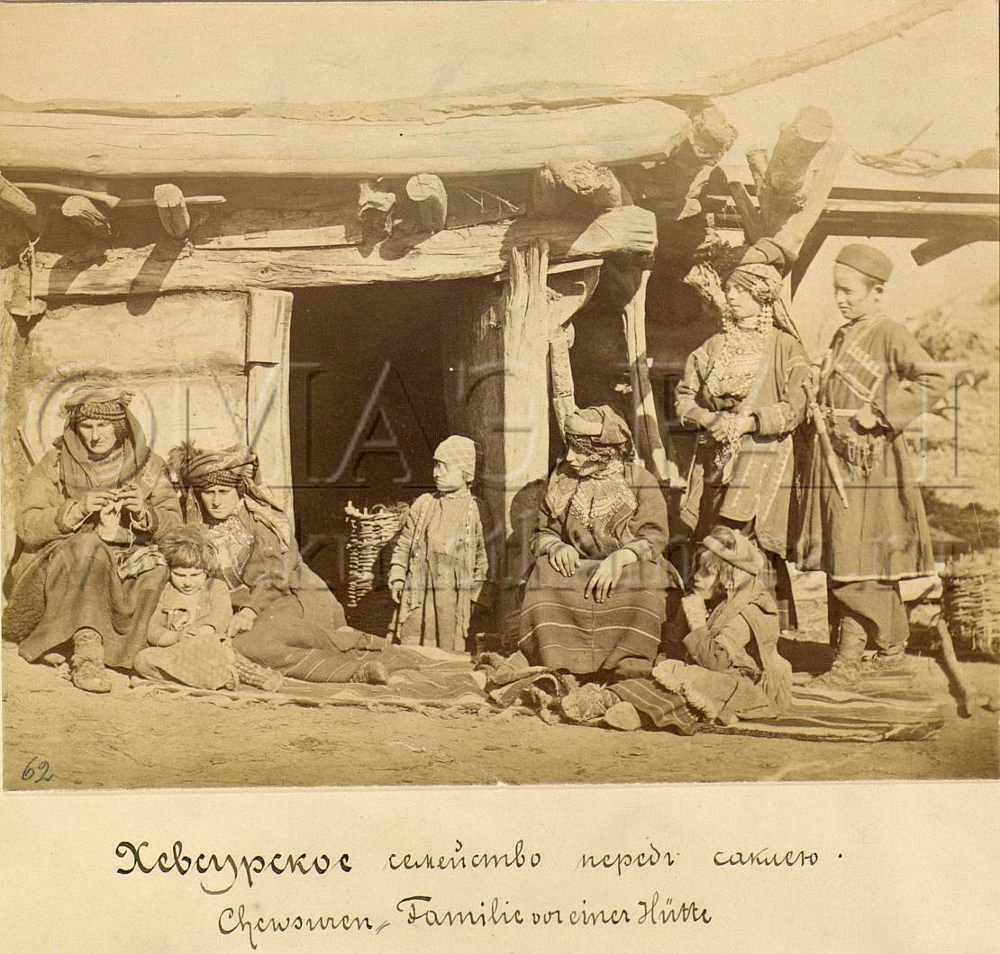 Image ref.: 121-63/3667527
Title: Group of women and children
Dating: mid-to-late 19th c.
Author: Nikitin D A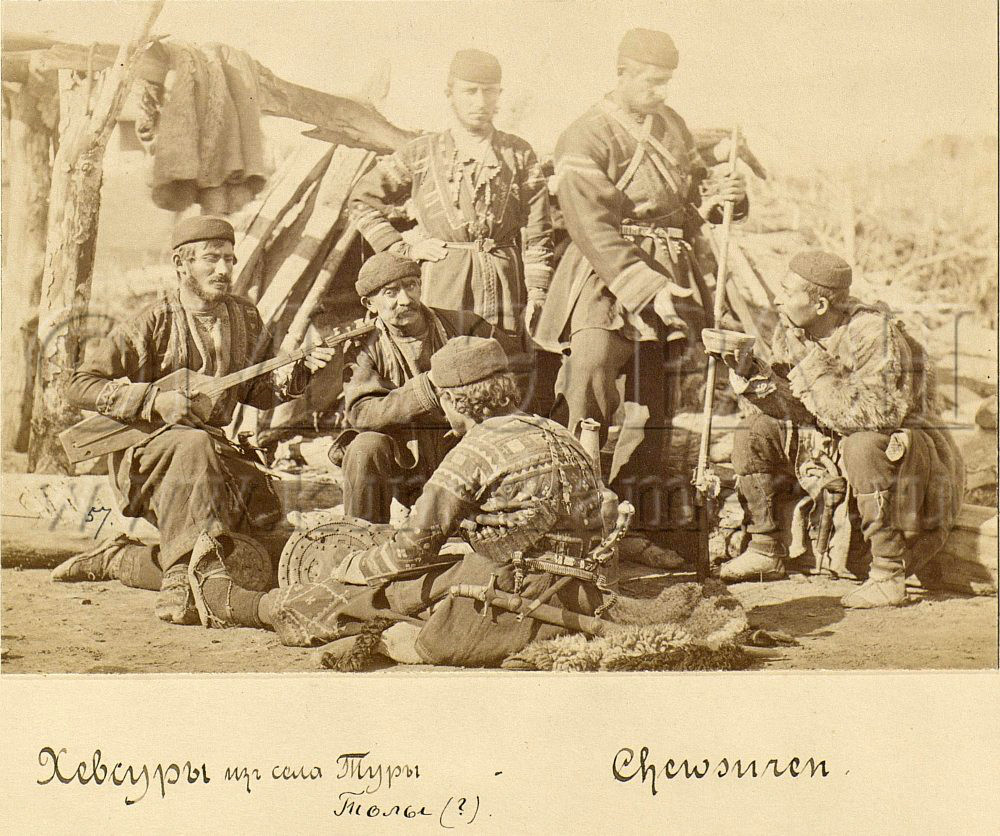 Image ref.: 121-58/3667515
Title: Group of men in traditional costumes
Dating: mid-to-late 19th c.
Author: Nikitin D A
Image ref.: 121-59/3667517
Title: Women in traditional costumes
Dating: mid-to-late 19th c.
Author: Nikitin D A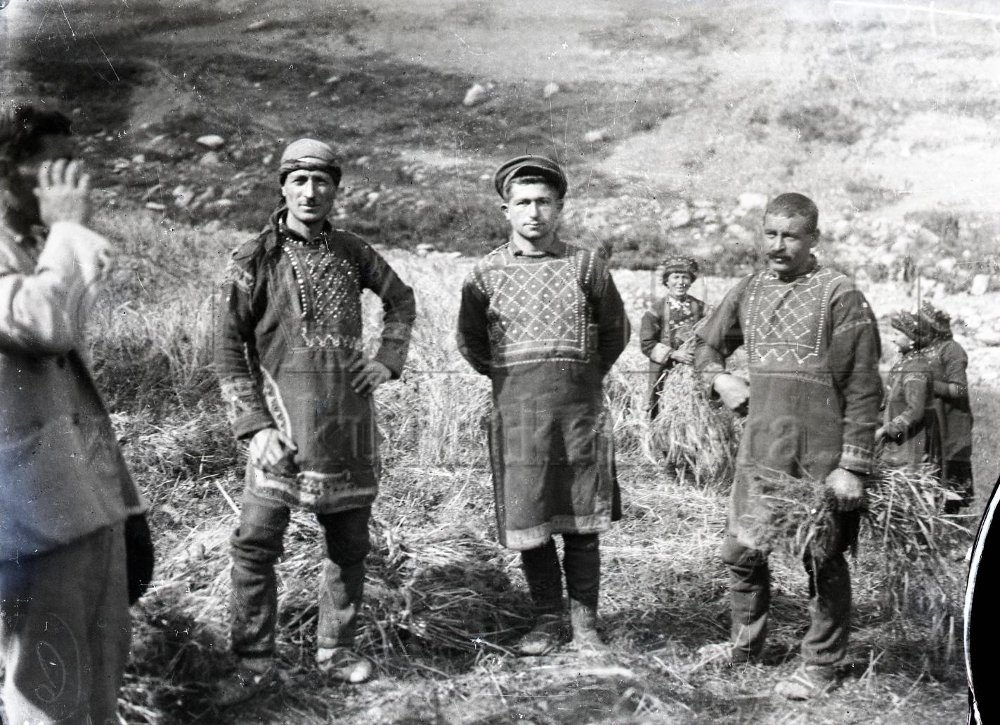 Image ref.: 1789-140/3710558
Title: Peasants working at a field
Dating: 1938
Location: Georgia, Kazbek, Gveleti [sic.; the archivist no doubt meant the village of Gveleti in Khevsureti]
Collector: Shilling Evgani Mihailovich, expert in ethnography of Caucasus
Image ref.: 1789-96/3710478
Title: Sword and shield
Dating: 1938
Location: Georgia, Dushetsky, Akusho
Collector: Shilling Evgani Mihailovich, expert in ethnography of Caucasus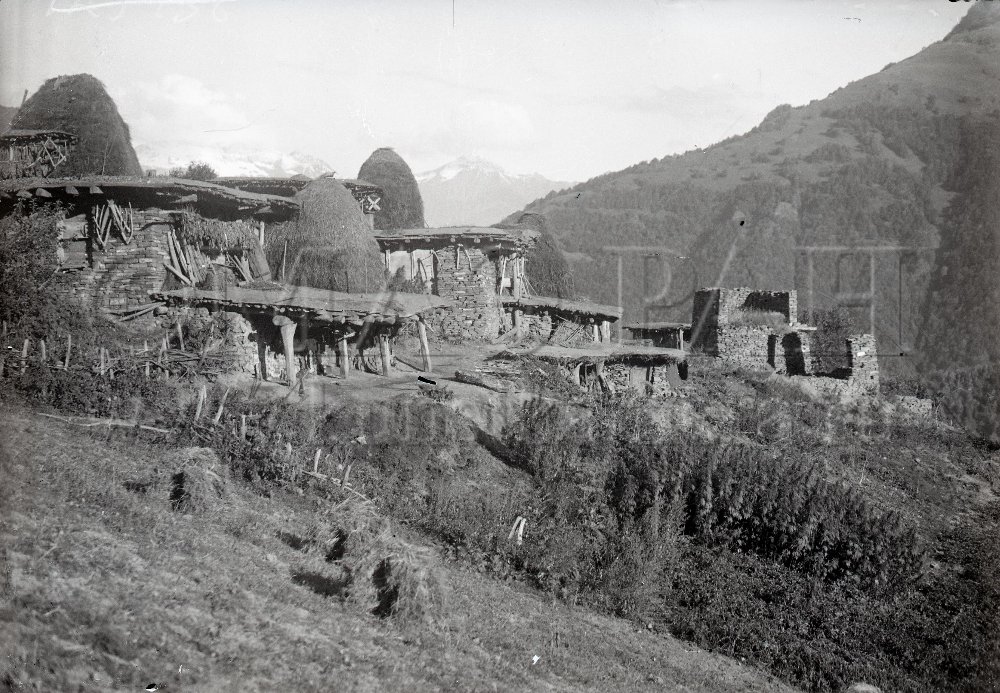 Image ref.: 1789-138/3710554
Title: View of Buchukurty village
Dating: 1938
Location: Georgia, Dushetsky, Buchukurty
Collector: Shilling Evgani Mihailovich, expert in ethnography of Caucasus
Image ref.: 1789-54/3710569
Title: Teacher Gabriel Balliauri with barisakho village residents
Dating: 1938
Location: Georgia, Dushetsky, Barisakho
Collector: Shilling Evgani Mihailovich, expert in ethnography of Caucasus
Image ref.: 1789-74/3710583
Title: Scene in a homestead yard
Dating: 1938
Location: Georgia, Dushetsky, Chardili
Collector: Shilling Evgani Mihailovich, expert in ethnography of Caucasus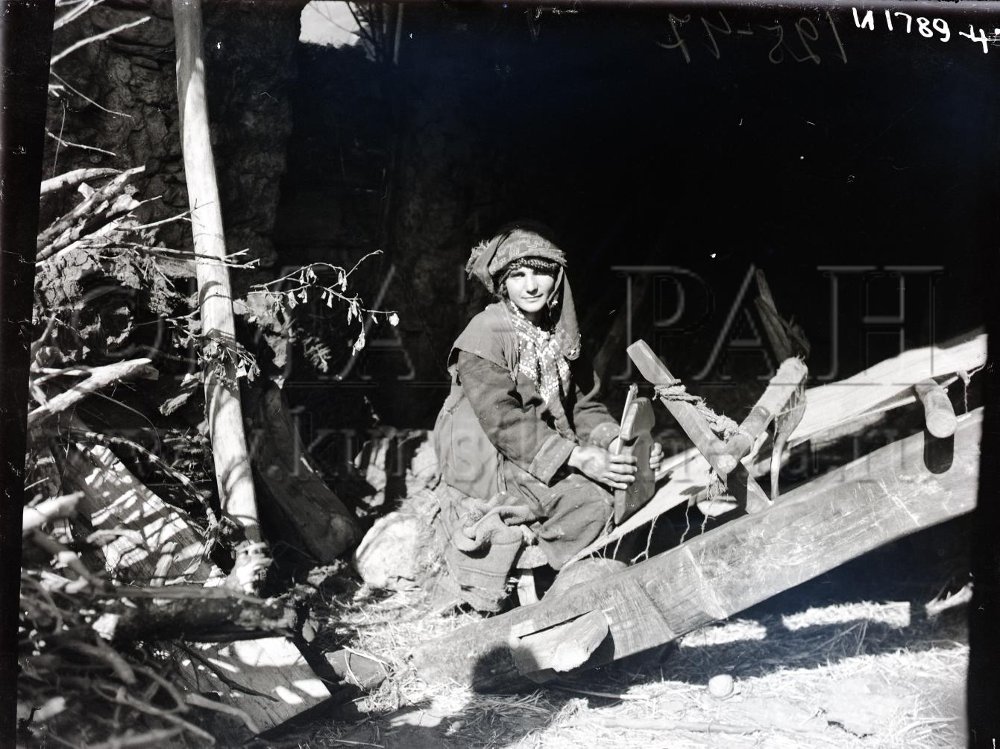 Image ref.: 1789-47/3710440
Title: Woman at weaver's loom
Dating: 1890s [sic.]
Collector: Shilling Evgani Mihailovich, expert in ethnography of Caucasus
Image ref.: 1789-83/3710456
Title: Girl with boy in traditional costumes
Dating: 1938
Location: Georgia, Dushetsky, Blo
Collector: Shilling Evgani Mihailovich, expert in ethnography of Caucasus

Image ref.: 1789-82/3710454
Title: Girl with boy in traditional costumes
Dating: 1938
Location: Georgia, Dushetsky, Blo
Collector: Shilling Evgani Mihailovich, expert in ethnography of Caucasus
Image ref.: 1789-22/3710508
Title: Young man
Dating: 1890s [sic.; more likely 1930s]
Collector: Shilling Evgani Mihailovich, expert in ethnography of Caucasus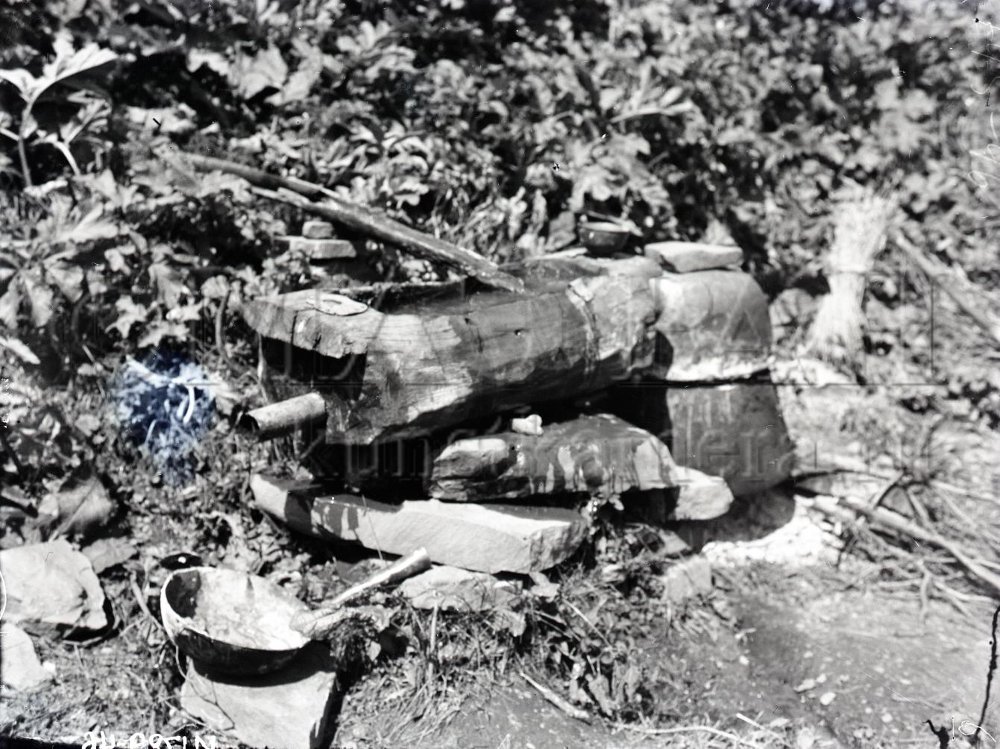 Image ref.: 1789-46/3710438
Title: [A still for making brandy]
Dating: 1890s [sic.; more likely 1930s]
Collector: Shilling Evgani Mihailovich, expert in ethnography of Caucasus
Image ref.: 1789-81/3710452
Title: Boys in traditional costumes with toy shield
Dating: 1938
Location: Georgia, Dushetsky, Blo
Collector: Shilling Evgani Mihailovich, expert in ethnography of Caucasus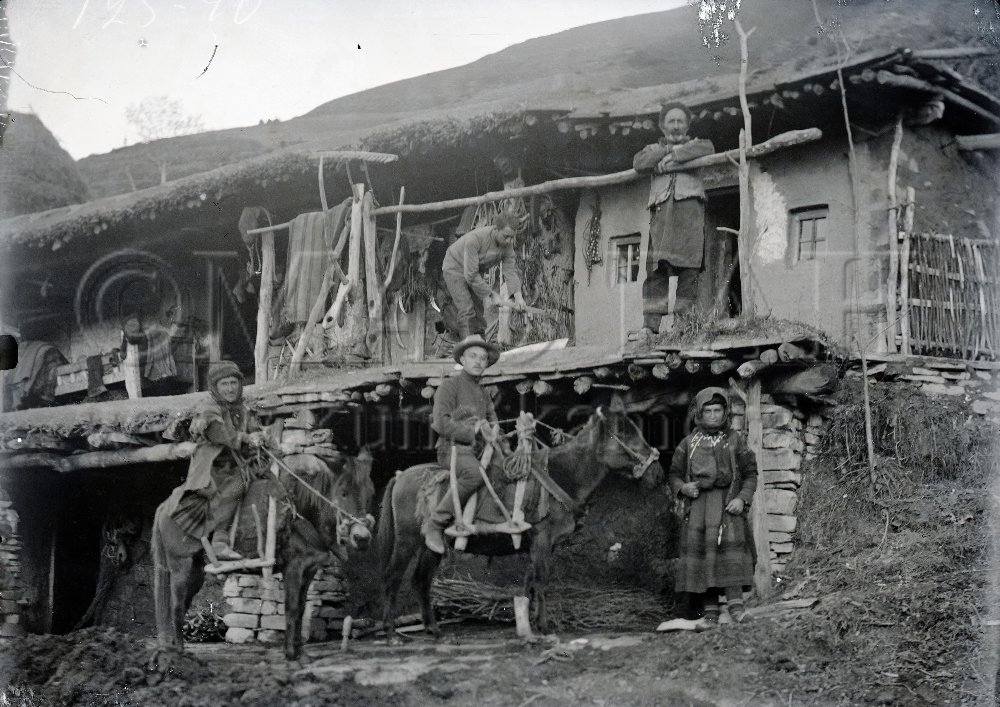 Image ref.: 1789-40/3710436
Title: Peasants at [home]
Dating: 1890s [sic.; more likely 1930s]
Collector: Shilling Evgani Mihailovich, expert in ethnography of Caucasus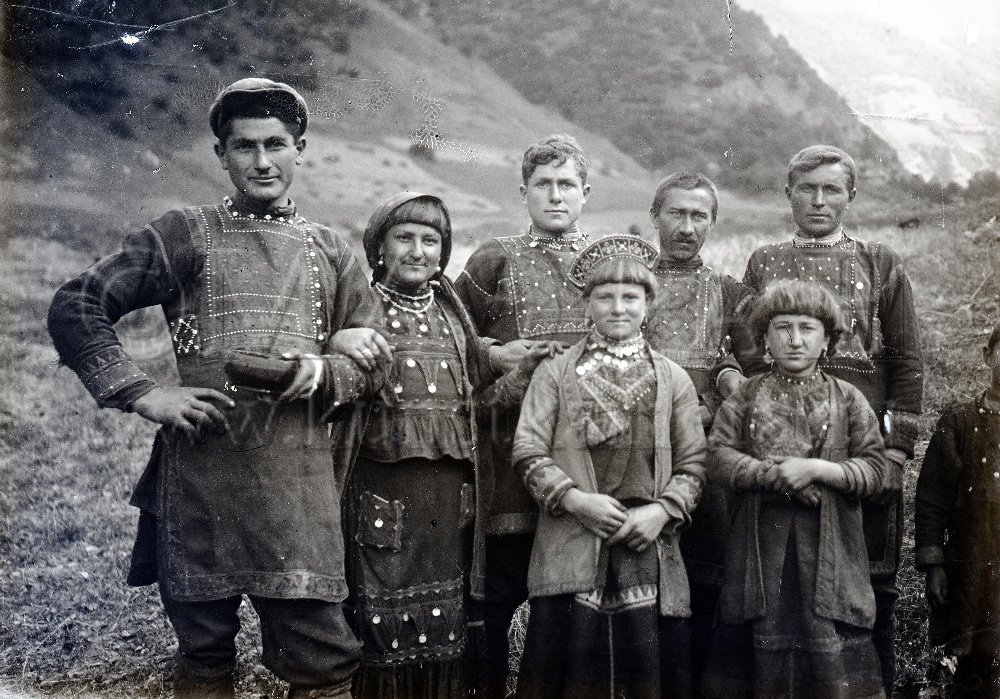 Image ref.: 1789-69/3710581
Title: Young men and girls in national costumes
Dating: 1938
Location: Georgia, Kazbek, Gveleti [sic.; the archivist no doubt meant the village of Gveleti in Khevsureti]
Collector: Shilling Evgani Mihailovich, expert in ethnography of Caucasus
Image ref.: 1789-66/3710575
Title: Man with girls in national costumes
Dating: 1938
Location: Georgia, Dushetsky, Barisakho
Collector: Shilling Evgani Mihailovich, expert in ethnography of Caucasus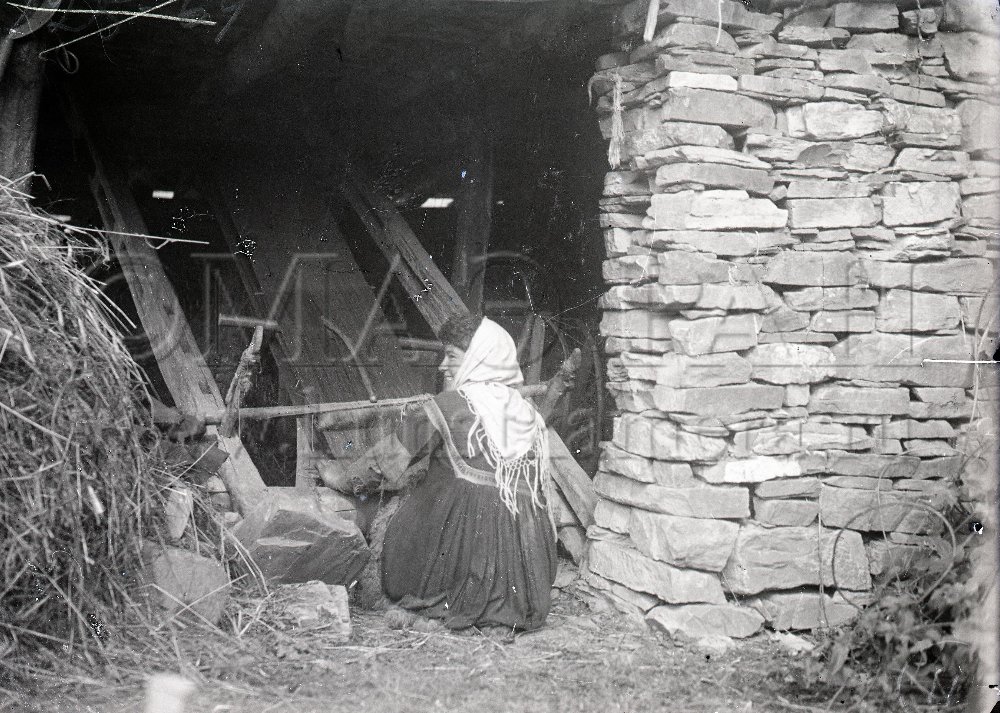 Image ref.: 1789-64/3710573
Title: Woman at weaver's loom
Dating: 1938
Location: Georgia, Dushetsky, Barisakho
Collector: Shilling Evgani Mihailovich, expert in ethnography of Caucasus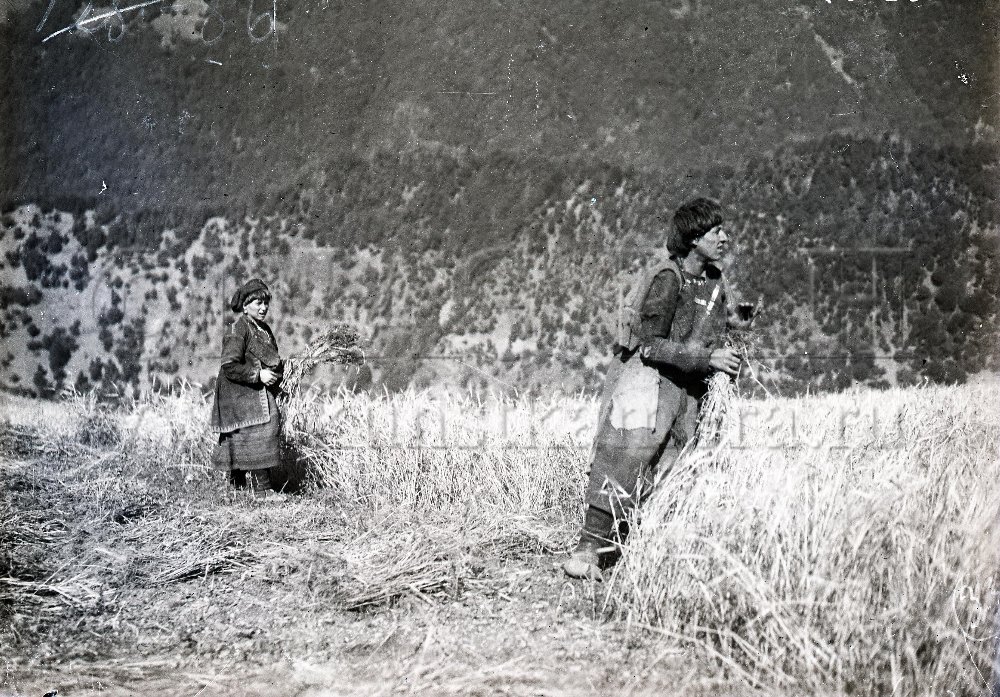 Image ref.: 1789-86/3710462
Title: Women [harvesting barley]
Dating: 1938
Location: Georgia, Dushetsky, Buchukurty
Collector: Shilling Evgani Mihailovich, expert in ethnography of Caucasus
Image ref.: 1789-95/3710476
Title: Bodkins
Dating: 1938
Location: Georgia, Dushetsky, Akusho
Collector: Shilling Evgani Mihailovich, expert in ethnography of Caucasus
Image ref.: 1789-141/3710560
Title: Man at copper forged boiler for brewing during religious festivals
Dating: 1938
Location: Georgia, Dushetsky, Akusho
Collector: Shilling Evgani Mihailovich, expert in ethnography of Caucasus
Image ref.: 1789-93/3710474
Title: [Shepherds] with a boy
Dating: 1938
Location: Georgia, Dushetsky, Chardili [sic.; the archivist probably meant the village of Chrdili]
Collector: Shilling Evgani Mihailovich, expert in ethnography of Caucasus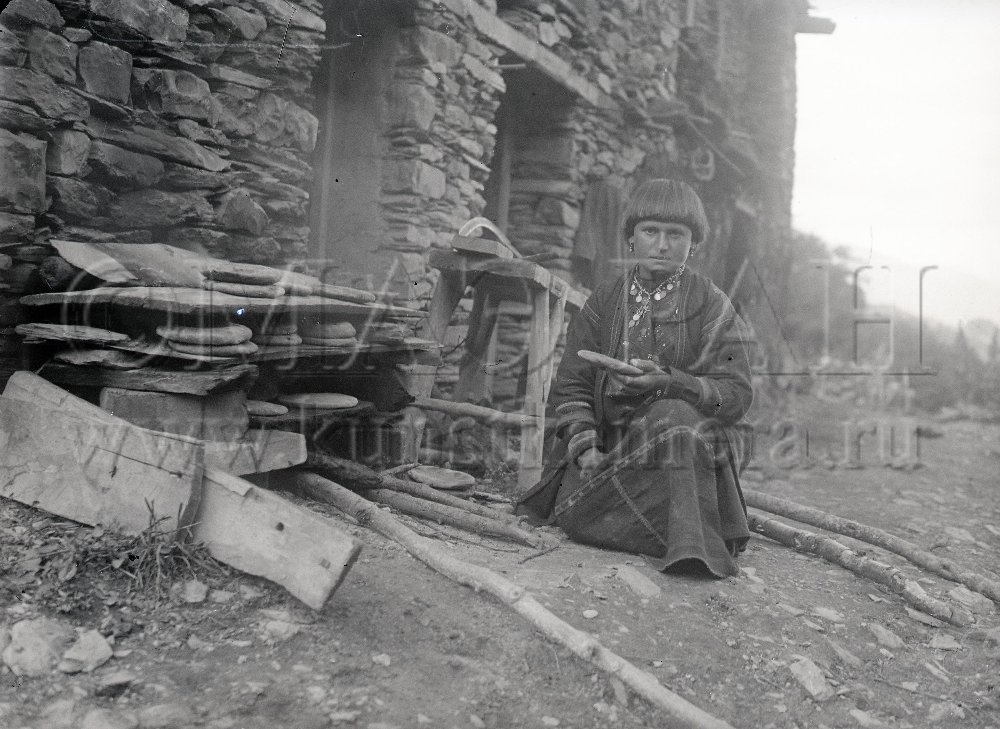 Image ref.: 1789-103/3710490
Title: Girl in national costume
Dating: 1938
Location: Georgia, Kazbek, Gveleti [sic.; the archivist no doubt meant the village of Gveleti in Khevsureti]
Collector: Shilling Evgani Mihailovich, expert in ethnography of Caucasus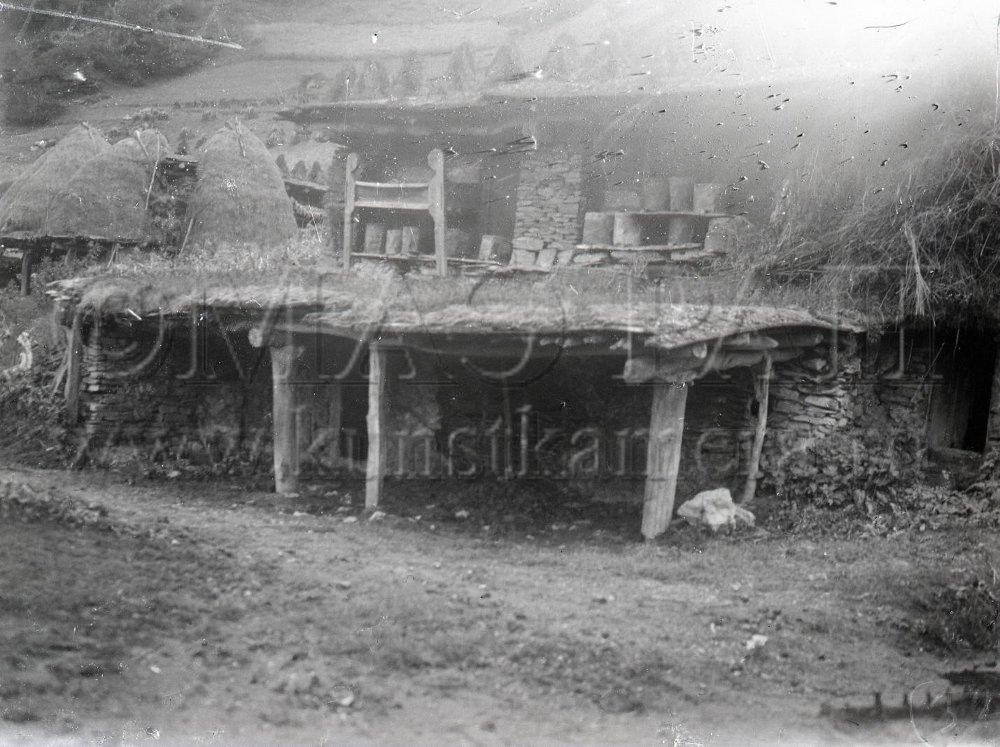 Image ref.: 1789-85/3710460
Title: Traditional dwelling
Dating: 1938
Location: Georgia, Dushetsky, Buchukurty
Collector: Shilling Evgani Mihailovich, expert in ethnography of Caucasus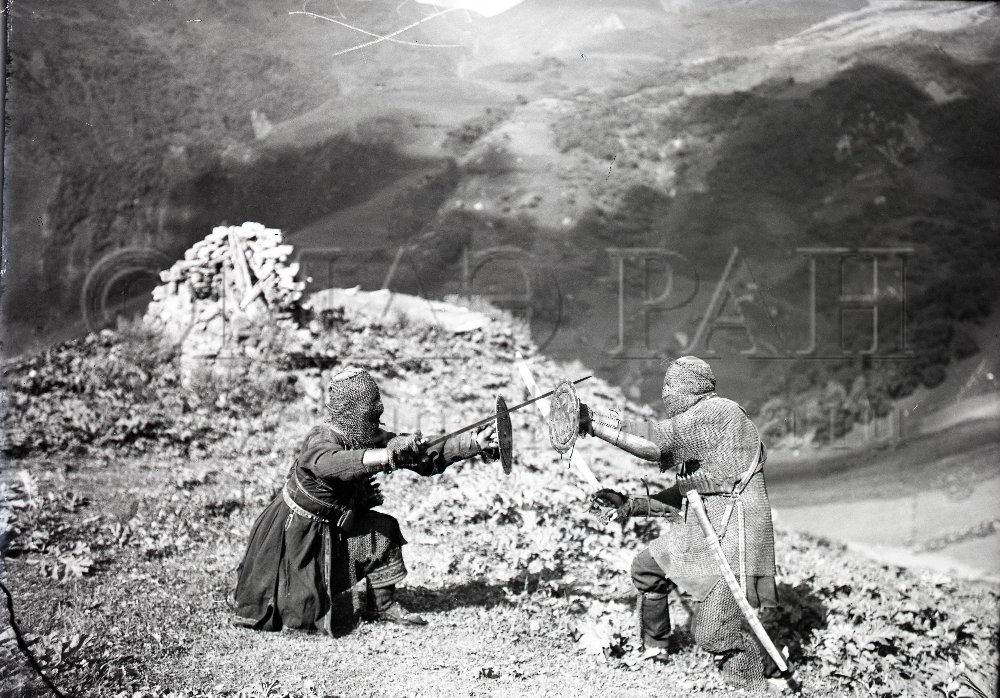 Image ref.: 1789-23/3710434
Title: Scene of swordcraft
Dating: 1890s [sic.; most likely the 1930s]
Collector: Shilling Evgani Mihailovich, expert in ethnography of Caucasus
Image ref.: 1789-48/3710442
Title: Group of men
Dating: 1890s [sic.; most likely the 1930s]
Collector: Shilling Evgani Mihailovich, expert in ethnography of Caucasus
Image ref.: 1789-100/3710484
Title: Girls in national costumes
Dating: 1938
Location: Georgia, Kazbek, Gveleti [sic.; the archivist no doubt meant the village of Gveleti in Khevsureti]
Collector: Shilling Evgani Mihailovich, expert in ethnography of Caucasus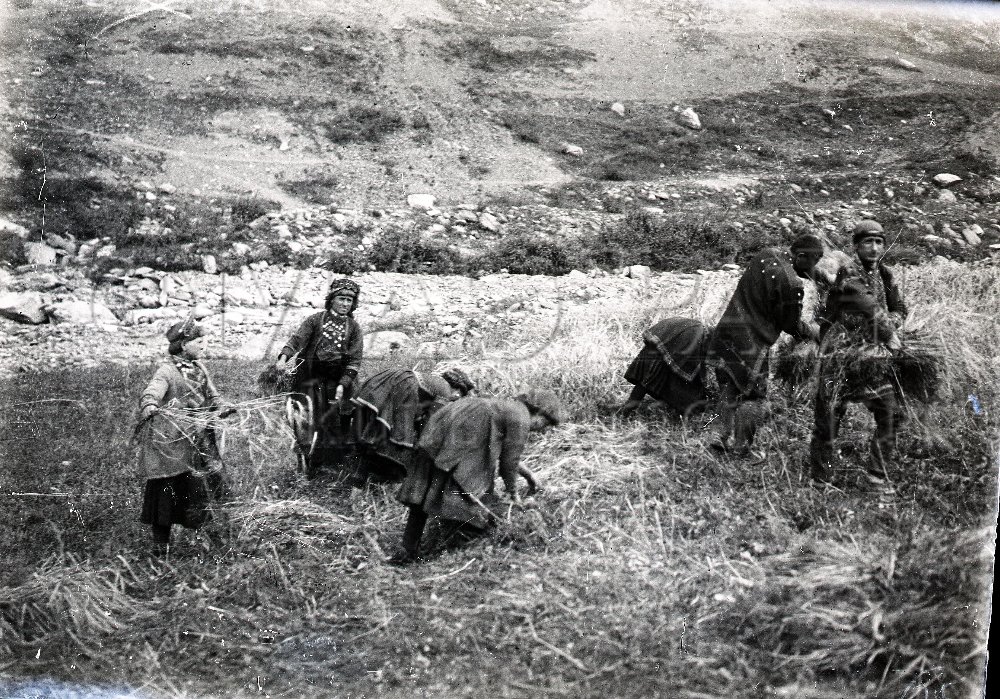 Image ref.: 1789-68/3710579
Title: Peasants at barley harvest
Dating: 1938
Location: Georgia, Dushetsky, Barisakho
Collector: Shilling Evgani Mihailovich, expert in ethnography of Caucasus
---
Unless stated otherwise or obviously not the case, all the text and images on this website are © A.J.T. Bainbridge 2006-2014
---
Do get in touch! Gmail: alexjtb