---
Bells & bottles
THE SAZARE-MARANI OF LASHARIS JVARI
---
Perhaps the holiest of all the highland shrines of NE Georgia, the Cross of Lashari (G. ლაშარის ჯვარი) in Pshavi is rendered even more exceptional by the presence of a rather extraordinary belfry-cum-wine-cellar (G. საზარე-მარანი). The belfry itself stands around 4.5m tall, and the bell it contains bears the following dedication (copied from Bardavelidze 1974, p. 37; my free translation):
ქ:. ესე:. ზარი:. შემოგწირე:. მე:. ერისთავმა:. რევაზ:. შენ წმინდას გიორგის ლაშარეს:. ღმერთო:. ადღეგრძელ:. მისი დამწერი.
k:. this:. bell:. I offered:. I:. eristavi:. Revaz:. for you, holy Giorgi of Lashari:. God:. grant a long life:. to the author of this inscription.
As always, Bardavelidze's remarkable book includes several beautiful scale drawings of the belfry in question (please click for a larger image). The four kvevri are shown in the top-right-hand and the bottom drawings.
---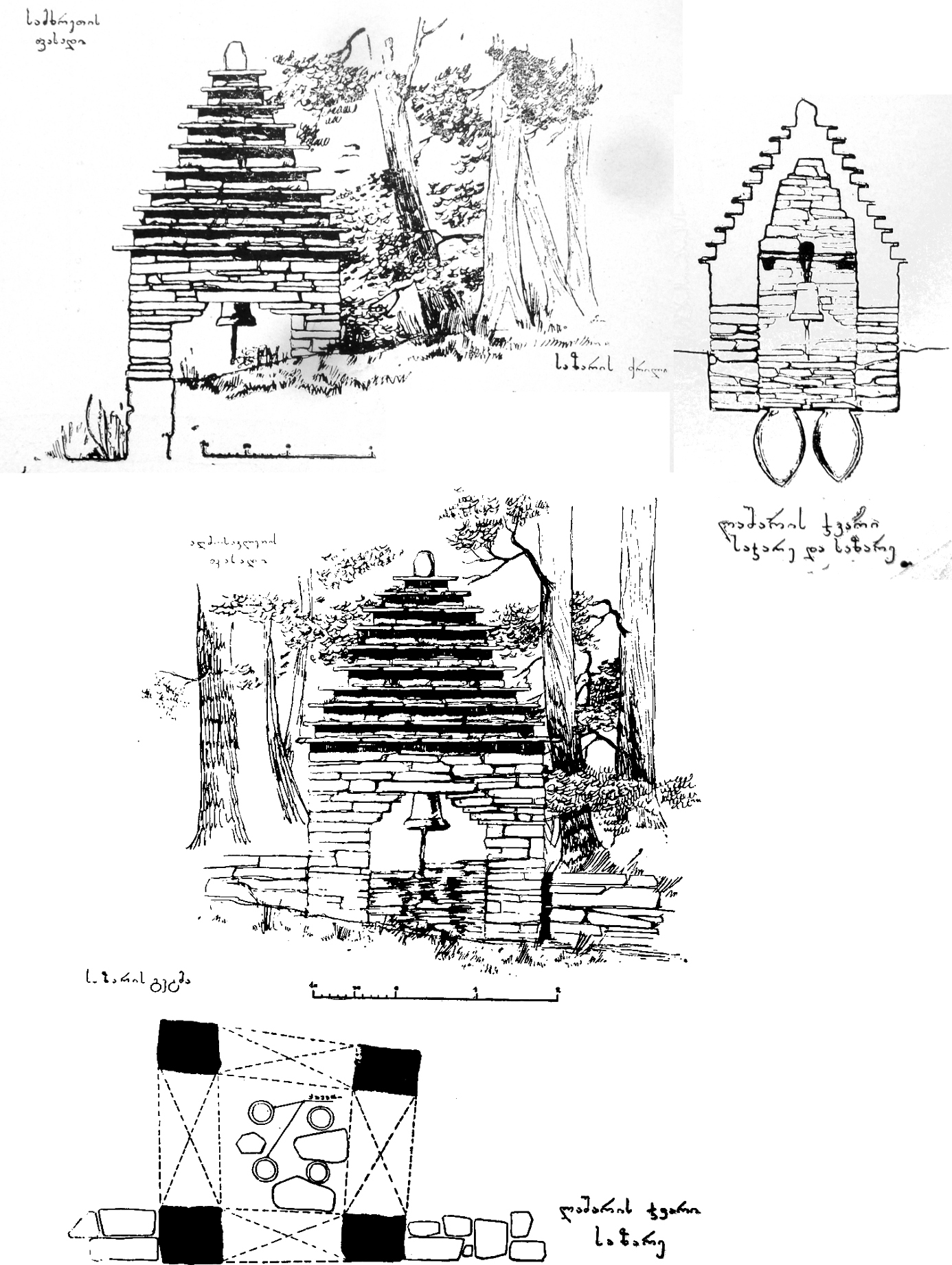 ---
According to Pshavi's most famous shrine-priest, Bich'ur Badrishvili:
In these kvevris was kept the holy wine [G. ზედაშე, zedashe] for the rituals of the Cross of Lashari, especially for those which marked the arrival of the New Year and seroba*. This wine was brought up for seroba from Akhmeta [a town in western Kakheti], where the Cross of Lashari owned a large vineyard [G. ზვარი, zvari] and a wine cellar.
* An important mid-summer cycle of festivals; see Tuite, "The political symbolism of the mid-summer festival in Pshavi, then and now".


---
Unless stated otherwise or obviously not the case, all the text and images on this website are © A.J.T. Bainbridge 2006-2017
---
Do get in touch! Gmail: alexjtb